I LOVE #phx.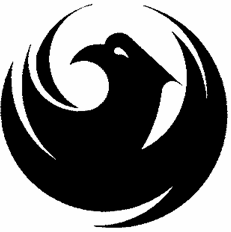 I LOVE this community.
It makes me proud to be part of it.
We had the event I help organize a couple of weeks ago and we had a ton of great people come out and support. Susan Baier was awesome  in her support, so with her putting on Laid Off Camp Phoenix, I wanted to make sure to show up and show my support.
I wasn't able to be there the whole day because the craziness of the other event had left us still underwater and we really hadn't seen as much of our kids as we need to (one of our biggest life priorities) so I showed up late. I'm really glad I made it.
What it is: Laid Off Camp Phoenix is an extension of a national effort to help people find work — full-time work, freelance work, volunteer work, or whatever's next for them.  Like other Laid Off Camp events, is a locally-based, community-supported effort to offer resources and reassurance to job seekers.
I wasn't sure exactly what to expect. I figured I'd see a bunch of the folks from the #phx social media community hanging out & having fun. Other than that ???
Well I did see some but it wasn't a ton. And I think most everybody I knew there was either helping organize the event or speaking. The thing I didn't expect was I didn't recognize the vast majority of people there – not at all.
I was totally psyched by this. It meant to me that this wasn't another of our little community meet ups where we all just hang out together & have a good time. Don't get me wrong. I absolutely love those and have nothing negative to say about them.
I just thought it was so cool that the reach of this event went far beyond. If most of the people at this conference were not involved with the Phoenix social media scene, they were there for another reason. They were there to get the help that Laid Off Camp gives.
Few examples of the great content…
Pam Slim talked about new ways to work & think.
Susan Baier talked about working through being laid off.
Charlene Kingston gave tips to freshen your online image
Jana Knapp revealed networking tricks
Joshua Strebel talked about getting online
Justin McHood talked SEO
And other stuff on interviewing, finding the right recruiter, resources that exist for jobseekers, selling, use of social media & other low/no-cost tools
It was awesome to see so many people there getting free help that can actually make a significant difference in their lives.
It is also so awesome to see how much good our Phoenix social media community does. Cranked my love meter for Phoenix even a bit higher.
I must admit it was already pretty high at that point.  I was still dumbfounded that our Phoenix folks contributed to Twestival to the point that #phx raised the 3rd highest $$ amount for charity across the entire world, besting places like San Francisco, London, Los Angeles.
Then I'd just hit Ignite Phoenix 6 that week which always pumps me up on Phoenix goodness. Lots of new faces there.
Phoenix Real Estate Bar Camp just happened.
I'm also psyched for Scottsdale Camp. I think that will be another event where it'll be a lot of new faces getting a lot of great information they can use.
I think all this is coming around. I think the time that we have spent building community together and helping educate ourselves is letting us all take this to the next level.
To me, it doesn't feel like just the same folks going around to hang out at each others' events anymore.
It just amazes me that a few years ago, not only was I not involved in any of this goodness. I didn't even know anything was going on.
Comments
comments