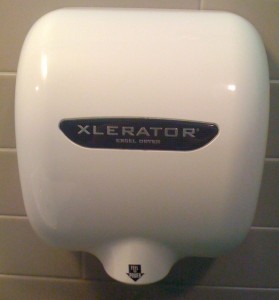 I hate air hand dryers. Can't stand them. Never could.
Ran into this one in the restroom at Lululemon. While they bug me, this one was so powerful and did the job so well that I couldn't help but like it. The stream of air was about 5 times as powerful as a typical one. It was also quite a bit warmer. Dried my hands lickety split. This was the best air hand dryer I'd ever seen other than one in the Melbourne, Australia airport.  I think that was called the Air Blade or something and it ruled as well.
Anyway, just goes to show you that if something is good enough, it will impress no matter what your preconceptions are. Good is good.
I also love the "Feel the Power" blurb near the jet. When you're good enough, no problem giving people a little extra impetus to check you out.
Moral: if you hate air dryers like I do and you come across the XLERATOR, give it a shot!
Comments
comments