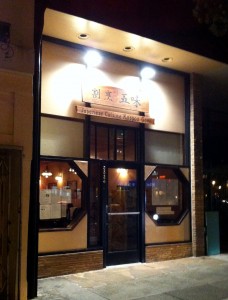 If I could transplant 1 restaurant to AZ…..
I think it would be Kappou Gomi in San Francisco.
The excellent Joe Johnston was asking me about it and I made that statement. Once I made it, I thought it was a pretty interesting one. For me, there are a variety of factors involved.
It would need to be something you love.
It would need to be something that you don't have where you live.
It would need to be something that's affordable enough that you'd be able to enjoy it (at least that's a consideration for me).
I think that makes for a pretty interesting question. I also think it could help those food obsessed of us to find other killer places.
Who knows? Maybe if we got enough support behind something, we could get another AZ restaurant gap filled?
For me Kappou Gomi fits right in with all those categories.
Heather and I absolutely love Japanese food. And Kappou Gomi is definitely Japanese. And the food is phenomenal. Of the 4 dishes I had, 2 of them were swoon-worthy.
It's also very different from your standard sushi or izakaya spots. We don't have anything like this in Arizona. I'd do about anything for a place like this.
And then the value was off the charts. Some of the most amazing food I've had in years and for what it was, it was crazy cheap. It's still not go there every day dive cheap but it was reasonable enough that I could see hitting it once or twice a month if it were here.
Some of the other places that would be on my AZ dream restaurant short list are:
Had another swoonworthy dish there this year. The Khao Soi left me weak in the knees.
I guess my list skews Asian pretty hard.
So what would your tops be? What restaurant would you LOVE to see in AZ? Any other good contenders?