Kappou Gomi is amazing. This is EXACTLY what I want. EXACTLY… I would *kill* to have this restaurant in Arizona. I think that the only reason that this place wasn't hours deep in wait and priced through the roof could be that it's a bit of a hike from downtown?
It was phenomenal though. First of all there is a huge, huge menu and it's pretty tough to determine what to order. They have each fish listed with 7-10 different preparations. Then there is a specials menu and a beer and sake menu. I was pretty overwhelmed so I put myself in the hands of the lovely older ladies that were manning the restaurant. You never see the chef as he's actually in the kitchen. They soooo did me right.
I ended up ordering or having 4 dishes ordered for me.
I got the bonito sashimi. That was fantastic and the presentation was gorgeous. It comes with the fish's head and tail. I don't know if I've seen a more beautiful fish in recent memory. Looked pristine and fresh as could be. Served with a light ponzu with fresh grated ginger and chopped scallions. Wonderful dish.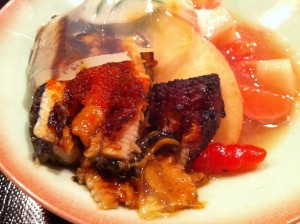 That was followed by one of my favorite dishes in recent memory. One of the ladies asked if unagi sunomono sounded good. I much prefer to put myself in the hands of those who know so while it sounded good but really not terribly exciting, I said sure. I had no idea what was to come. It came out as a shallow bowl of vinegared vegetables (sliced cucumber, daikon, lotus root) and peaches. There was also a bit of a creamy sauce with the sliced cucumbers. There was a good amount of the sunomono dressing and also a square sheet of gelee over the unagi and another one beneath it. The dish was nice to look at but it didn't really give any indication of what was to come. When I dug in, the combination of flavors and textures and temperatures was amazing. The sweet, fatty, warm unagi was beautiful with the cool vinegared vegetables. Just perfect juxtaposition. I ate it up to the last bit and almost embarrassed myself by drinking the remains of the dressing. I'll be thinking about this dish for a long time.
That was followed by a dish called grilled golden yolk tako. It was basically lightly grilled octopus that I believe was sauteed in egg yolk and oil and then presented in a hollowed out apple. It was lovely and I way dug the egg yolk, oil broth. I was again hard put to not put the apple to my lips & drink the last of it.
The sole disappointment of the night was that they were out of uni. I actually tried to order this dish with uni but they had sold out. I can't even imagine what this would have been like with uni.
Did I mention that Kappou Gomi rules btw?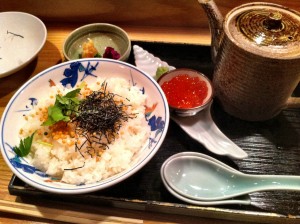 Ok on to the next dish. My final dish, as the ladies were recommending that I kind of follow a traditional pattern was ochazuke. Ochazuke or chazuke if you're not familiar with it is basically a simple dish where you pour tea over rice and add some savory toppings. While ochazuke typically comes with tea, (with the cha connoting tea) it was actually replaced with a gorgeous bonito broth. You could have it with a selection of ume, cod roe, salmon, salmon eggs and maybe a couple other items. I opted for the ikura (and I guess I'm smart because it was absolutely perfect). It also came with some fresh wasabi and some other condiments. Inside the bowl was some shaved nori, some pickled radish, some other herbs and something that looked like bee pollen? This dish was amazing. The flavors were super subtle but they were so clean and everything went together just perfectly. I've had so many meals where the chef puts together combinations that don't better the ingredients. I've had many where the chef really does elevate the ingredients and then I've had a few dishes here and there where it's absolutely perfect. This was perfect. Same with the unagi sunomono. Perfect…
I think most of these dishes with the exception of the sashami were $10 or under. The value here is off the charts.
This place is a freaking gem and it has immediately jumped into the very top of my favorite restaurants anywhere.
The ladies were lovely as well. I think it helped that I was completely open minded and grateful. I can see how some of the posters here might have differing opinions but if you're very open to trying new things and you're nice and polite enough (as the ladies do seem a bit charmingly shy at first) and you let them lead you, I don't see how you cannot absolutely love Kappou Gomi.
If you're looking for your standard sushi place or the same dishes that you might be a fan of elsewhere, it's not that.
Absolutely transcendent meal for me…
I will not come back to San Francisco without coming here.
Kappou Gomi
5524 Geary Boulevard, San Francisco, CA
(415) 221-5353 ‎
Comments
comments