Not exactly sure what is happening but I feel pretty good today.
Yesterday was another story. I was about 7 days into the no/low carb regimen and I was feeling TERRIBLE.
Feeling Like Hell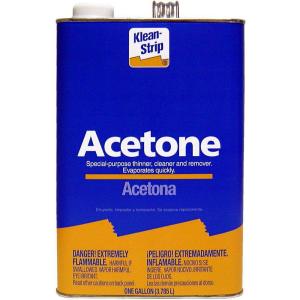 I was super low energy pretty much all day. Felt kind of wobbly. Didn't feel super sharp mentally and then in the evening, my joints (particularly my shoulder) started ache bad.
I'd read a bit and knew to expect a period of adjustment when I started to get into ketosis. It wasn't supposed to be pleasant. It would last a few days to week where I'd feel tired and sluggish. Maybe I'd get irritable, weak, and moody. It could come with headaches, cramps, joint pain and I could experience "brain fog".
As far as what atually happens in ketosis, ketones are molecules generated during fat metabolism. Some are used for energy. But there is one type of ketone molecule, called acetone, that cannot be used and is excreted as waste, mostly in the urine and breath. They say the breath and urine will smell like fruit where some people get a metallic taste in their mouth.
Well, starting yesterday, I definitely had something going on with my breath. Didn't get a specific smell but the consistency of my breath felt different. Felt like the composition of what I exhaled had changed significantly. Acetone probably fits the bill.
I was also pretty sure I was there as the day previous, I went on a bike ride and absolutely hit the wall. I wasn't riding hard at all as I knew not to do that but about 2/3rds of the ride, I just bonked. I was out of gas. I'm pretty certain that I had used up my glycogen stores and that's why I felt the way I did.
So I was in ketosis. But why did I feel ok today? Joint pain was gone. Didn't feel as tired. Was my physiology so incredible that I went through the discomfort stage in 1 day?
Nice!
I was done with the ketogenic blues!
Ah I Blew It…
Thought back on it more & realized it probably much more likely that I'd had too many carbs yesterday. At lunch, I ate a double double protein style from In-N-Out. As I looked at nutritional info, I saw numbers ranging from 11g carbs to 41g carbs. Yeowch. And I noticed that the lower carb readings came where people had substituted mayo, ketchup, mustard for the spread. I didn't realize I was supposed to do that.
And then for dinner, we had to pick up the 9 year old and figured to grab a super quick bite and food for her. We stopped at Bink's for possilby the quickest meal we'd ever eaten. Tried to order as low carb as possible (and did a decent job) but I think there were a few things there that might have contributed to the carb count.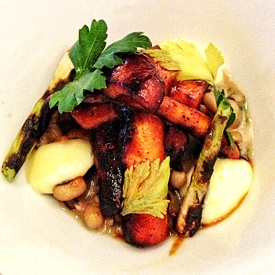 We started with a kale salad with curried couscous, almonds, dried cherries, pickled onion, red wine. I avoided the dried cherries but missed that there was couscous in it. Wasn't a ton but had to have gotten a little. Also did a little gem salad with dried tomato, cucumber, charred red onion and buttermilk vinaigrette. Thought I was pretty safe there but who knows. We also had mussles in a wonderful curry coconut broth. We both passed on the amazing scallion focaccia that accompanied it but I did have a taste (though I didn't swallow). We also had some amazing sand dabs with brown buttter and almonds. That seemed safe. But my guess at what could have been the carb culprit was the BBQ octopus with black eyed peas, bacon, i'itoi onion, aioli. It was phenomenal but it was barbecued with sauce. There was a definitely hint of sweetness to it. It was freaking amazing so I ate my half. That could have been the kicker.
So I think I dropped out of ketosis. That's got to be the explanation I can also tell that my breath is pretty much back to normal too.
So back to the super strict following and back to drain those glycogen stores and back to the ketosis blues all over.
We'll see how long they really last when I get through it for real.
I'll let you know!
Comments
comments