You need a blue Monster.
Really? I need one?
Yeah…definitely…you need one… Jump in your car & head to Circle K & grab one for yourself. Yeah…
Who Runs This Show?
I'm working late & I have these thoughts creeping into my head.
I'm working late so I need some kind of energy drink, right?
I need something other than water. Something with taste, right?
Actually…I don't.
I just think I do. It's crazy. I'm realizing that so many of my cravings seem to come from patterns in my brain & have nothing to do with my physiology. It's my weak ass brain…
When I really think about it & take stock of my body, it feels pretty good. It's not craving anything. I'm not hungry. I'm not thirsty. I'm ok. I don't need any sugar.
But my brain wants it…
Starting The Shift
The first couple days, I was in a pretty controlled environment so it seemed pretty easy.
I drank my Bulletproof Coffee. It kept me full. I enjoyed the taste and I didn't crave much sugar.
I was at work where I often get sugar cravings in the afternoon & go grab a Score bar & a drink (previously blue Monster, then Hubert's Lemonade when I was trying to go a bit less artificial and sometimes Gatorade). I didn't get any when I started down this path.
I felt good – pretty easy.
That Little Voice Started Talking
But as I continued to go through normal life, it started to get a bit harder.
When we got to Saturday night, I started thinking I needed something sweet. My wife is a dessert freak (blessed with a wonderful metabolism) so we normally have dessert after dinner. We're all conditioned to expect it. Doesn't have to be big but just something sweet. Something.
So as it got later in the night, my brain started thinking of sweets. In hindsight, was my body really craving it? I'm thinking not. That brain…
I avoided but it was pulling at me pretty hard.
Party Time
And then on Sunday, we went over to my sister & brother-in-law's for my nephew's birthday party.
There was white rice (which I freaking love), corn on the cob with melted butter, cheese & crackers (some great cheeses), chips & salsa, chips & guacamole, veggies & hummus.
I wanted it all. Bad. I definitely got the snack cravings & started jonesing. I needed something.
So I ran out for some snacks of my own. Headed down to Bashas & grabbed some pork rinds & deli ham. Started slamming those & felt a bit better.
Later in the day, there was birthday cake, Blue Bonnet vanilla ice cream, homemade brownies and homemade chocolate chip cookies. Seeing those for an extended period of time started making me yearn.
I headed into my niece's bedroom & laid down for a bit (was pretty wiped anyway). As I was thinking, I asked myself if I really needed the sugar. Really? And my answer was no. I started to ask if that sweet taste was really something that was objectively good and desired. And I came to the conclusion that it probably wasn't. There are lots of people that don't like sweets. Did I really need it right then? Not really when I thought about it.
It's more something that I've been conditioned to love. I was asking myself was I really missing out. I realized that my body wasn't really craving sweets when I really listened to it. They are just something I've been conditioned to think I want.
Made it through somehow.
Round 2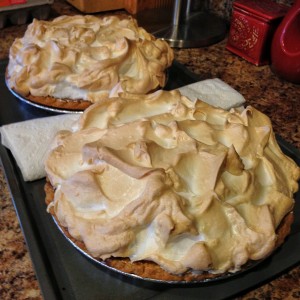 So then today we had a Labor Day BBQ at my mom's boyfriend's house. As we got ready to head over with my mother-in-law and stepdad-in-law, they came into the house first. I knew what my mother-in-law was bringing – 2 homemade epic lemon meringue pies. She's a wonderful baker. Saw them at the house & they were beautiful. I of course knew how good they taste.
When we got there, I went in to see what food we had of course. There was a big BBQ turkey,  some deviled eggs, some vegetable plates with dip, potato salad, macaroni salad, corn on the cob with melted butter and sweets. Lots of sweets. More birthday cake, a whole bunch of cupcakes and of course those beautiful lemon meringue pies.
I held up and surprisingly it wasn't too hard. I was in the other room for most of the time so I didn't actually see the sweets the whole time like I did at my sister's the day before.
Do We Really Need It?
So tonight as I'm sitting here thinking, I'm wondering if our bodies really crave stuff. Sweets? Salt?
I am pretty sure we do sometimes get cravings that are driven by our physiology but I think that a lot of the time, it's just the patterns and associations in our mind that make us think we need something. For me, it is often the association that we have with certain food.
The more I'm thinking as I'm head down this road, I think it's going to be primarily an effort in paradigm shifting. I bet there will be a lot of looking at my  patterns, acknowledging the emotional attachments I have to certain foods (many of them made from when I was a kid), and realizing the things I associate with certain foods.
It may really not be the foods themselves that much!
Comments
comments