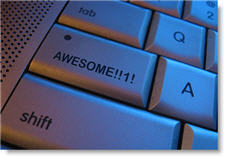 I wanted to have a place where I could post thoughts at times but I didn't just want to have a blog that meandered all over the place with no rhyme or reason.
I've finally figured out what I think about most of the time and what theme could tie my thoughts together.
I'm a big fan of awesome. Sure everybody likes cool stuff but I don't just dig awesome things for the characteristics that make them so. I appreciate them as well for just being awesome.
I think that as time goes on, this revolution in communication (social media, whatever you want to call it) is going to basically enable awesome to win and not-awesome to lose. With the voice it gives everybody, things will become more and more transparent and everybody will know what rocks and what does not.
Because of this, we all need to get more awesome, me especially.
With that in mind, I will mostly be talking about things that stand out to me as totally awesome or very not-awesome.
Image credit: Caps-Lock is FULL OF AWESOME!!1! on flickr by catcubed
Comments
comments