Yes Butter!
My sister recently posted a link to Bulletproof Coffee on my Facebook wall.
We'd been talking about diet recently & she and my brother-in-law were embarking upon a new eating regimen similar to Paleo. As part of their plan, mention was made of Bulletproof Cofee.
So What Is It?
It's basically coffee with butter and some MCT (medium chain triglycerides) or coconut oil.
It actually tastes pretty dang good. It is very creamy, quite satisfying cup of coffee.
When I tried it (and I've had it every day since), I felt full, enjoyed the taste and was very alert throughout the day. I didn't have my typical sugar cravings early afternoon (where I'd been grabbing a blue Monster and a Score bar regularly).
The recipe is created by Dave Asprey, a biohacker who blogs as the Bulletproof Executive. He came up with the idea when he was given a creamy cup of yak butter tea at 18,000 feet near Mt. Kailash in Tibet. It completely rejuvenated him and he had to know more.
Why Do It?
Bulletproof Coffee has a number of supposed benefits.
It gives you lots of energy
Provides your body with healthy fats for your cell walls and hormones.
Helps reset your body's fat digestion systems and enables you to burn more fat.
Programs your body to burn fat for energy all day long!
Enhances your cognitive abilities.
Some Concerns About the Ingredients.
Coffee: The recommendation is to use organic, mold-free, preferably single origin coffee beans.
There supposedly are toxins in cheap coffee that can steal your mental edge and make you weak where clean coffee provides antioxidants and may fight cancer.
Cheap and old coffee are thought to be bad for you because they can harbor toxic molds. The molds that form when green coffee is stored are tied to cancer, heart disease, bad cholesterol, and hormone irregularities. Roasting kills the mold but doesn't destroy the toxins already present.
As far as specific details:
Avoid decaf. Caffeine protects the beans from more mold decaffeination can introduce new organic toxins or contribute to mold.
Don't use robusta (cheap, instant) beans. They are moldier and higher in caffeine (a defense against mold). Use arabica beans.
Look for coffee that is tested to be free of histamines and mold toxins (like Asprey's Upgraded Coffee). Wet processed beans are also than naturally processed (where beans are dried in the sun giving them time to mold). Wet process coffee uses less time and rinses the beans, resulting in lower-toxin coffee.
Look for Central American varieties grown at high elevation. Mold is more scarce there.
Single origin is better than major brands. If it is sold by a national coffee house, its mixed with many other sources and it is more likely that toxic mold has made it into the coffee.
If you can't find good beans, brew or order an Americano. Steam helps to break down the toxins.
If you are ordering beans, you can ask for "the most expensive Central American, wet-process (or washed) beans."
So far, we're not following this super religiously (just using single origin Nespresso pods primarily because they're so convenient) but we might look into it later.
Butter: You also want to use  unsalted grass-fed butter.
It provides the benefits of healthy milk fat with none of the damaging denatured casein proteins found in cream. Corn or soy-fed cows don't make butter with the same fats. Those butters don't blend well, don't taste good, and don't make you feel as good. Grass-fed butter is much healthier than other butter. 
Kerrygold butter works great and is very tasty. We're using lots of Kerrygold butter (salted for cooking & unsalted) now.
Bulletproof Coffee Recipe
Start with 4-500 ml (2 mugs) of black coffee brewed from the cleanest beans you can find.
Add 2 Tbs (or more, up to 80 grams, about 2/3 of a standard stick of butter) of Kerry Gold or other UNSALTED grass-fed butter
Add 2 Tbs (30 ml) of Upgraded MCT oil for max energy, weight loss and brain function (this is 6 times stronger than coconut oil, your next best choice)
Blend with a pre-heated hand blender, shake really hard in a flask, or (best) counter top blender until there is a creamy head of foam. (It doesn't work well if you mix it with a spoon)
It's very fast and easy to prepare.
If it is too rich at first, use less butter and build up to the amount you like.
Our Execution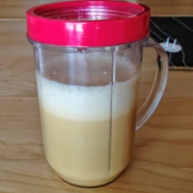 Takes us just a couple minutes. Our steps are:
Pull an espresso shot in the Nespresso luongo style (just a setting on the machine allowing you to send a bit more water through the coffee pod).
Drop in the Kerrygold butter and the coconut oil into one of the Magic Bullet mugs.
(Optional: add some Stevia, vanilla and/or cocoa powder – tried both of these but prefer without)
Add hot water to make an Americano.
Screw the blender top on to the mug, give it a whirl with the Magic Bullet & we're done.
My sister had a great tip which we're following now too. Put out your butter & MCT/coconut oil in the cup the night before so it's soft & warm in the morning.
We are just starting with it but enjoy the taste and are quite optimistic. I'll let you know more once we're a bit further down the road with it.
Image credit: Bulletproof Coffee 7 by TheFoodJunk on flickr